Integrity® is an innovative full replacement mattress system designed for the prevention of tissue damage, suitable for up to very high risk and grade 4 pressure damage. Integrity is now available on The NHS Supply Chain Framework agreement for the provision of pressure area care goods and services and NHSSBS Contract.
Integrity® has already received excellent feedback, have a look at the BJCN article published in the March 2013 issue on Integrity or to find out more about this innovative product Contact Us to discuss further or arrange a demonstration to try the benefits for yourself.
Integrity® System created with YOU in mind
When we designed the Integrity® system we asked you what you would like to see in a dynamic system.
Here is a list of requests from clinicians collected as part of our product research for creating a dynamic mattress to suit requirements and desired functionalilities:
"Simple Servicing and Maintenance?"
"Stepping Down Function?"
"More Affordable?"
"Quieter Pump?"
"Easy Set-Up and Adjustment"
"Efficacy Equivalent to leading mattress systems"
"Adaptable to all kinds of patients?"
Integrity® is a Sumed® Brand and is now available on SBS Contract.
Sumed® Integrity® Construction
Integrity® has been specifically designed to offer exceptional functionality and adjustability combined with simplicity in use.
Integrity® is our new advanced performance Alternating Dynamic Replacement Mattress System suitable for the prevention and management of all grades of pressure damage for clients up to 28 stones (178kg).
Additional information
Full 2 year warranty – Includes expert technical support
Mattress inflates to a height of 15cm and weighs only 14.5kg
User weight limit of 28 Stones
Suggested minimum user weight limit of 5 Stones
Comprehensive Safety Measures
To maintain patient saftey, the system will automatically switch back to alternating pressures after 1 hour on Static Mode or 30 minutes on Nursing mode. The polyurethane cover is white inside for easy fluid ingress inspection and its fixing straps have quick-release poppers that prevent tearing if the mattress is incorrectly fitted to a profiling bed.
A 5cm soft foam underlay provides permanent protection against "bottoming out". The control panel automatically locks after 15 seconds and alarms will sound for low pressure and power loss.
There is a CPR tag for air evacuation at the head of the mattress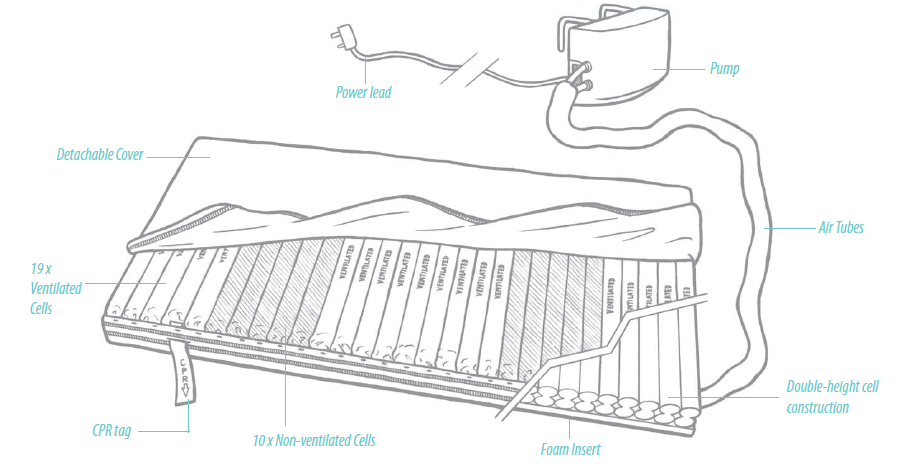 Small cells give excellent patient comfort, immersion and pressure relief
Integrity® is constructed from 29 small cells split into top and bottom compartments with the head, heel and sacral areas offering ventilated micro low air loss delivering improved client immersion and comfort. The small cell construction ensures pressure relief is delivered in an unobtrusive manner and reduces the issue of cell distortion when profiling the bed frame.
Integrity® has a double cell height small cell construction with arrays of micro low air loss (LAL) cells at the heels, sacrum and head. The micro LAL cells deliver maximum immersion and comfort in these most vulnerable areas.
Sumed® Integrity® Features

Pump Additional Features
Automatic Start up Mode auto-adjusting for the patient weight with a 10 minute cycle and medium pressure level
Pressure Options and Cycles Times (4 Options)
Comfort Setting (3 settings that can be adjusted between to fully suit the individual if required)
Auto Firm "Nursing" setting for catheterisation and manual handling procedures
The pump is small and ultra-quiet
Can be hung from the bed with easy-attach hangers or placed securely on the floor
NOW AVAILABLE: Extra wide pump bracket
Unique modes for "Stepping Down"
Auto Dual Setting that switches between static and alternating pressure on a 60 minute cycle – This alternates between an hour of static support followed by an hour of alternating support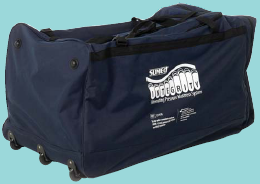 Integrity® has a clear, easy to operate control panel with an exceptionally quiet digital pump. Integrity® is designed to auto-adjust with 3 comfort setting options – soft, medium and firm to suit individual client requirements, fine adjustment within these settings can also be made for optimum client acceptability.
Integrity® offers four alternating mode cycle time options – 5,10,15 and 20 minutes as well as "auto firm" nursing mode and static mode options.
A revolutionary feature is "auto dual" mode which delivers an hour of alternating pressure relief followed by an hour of static pressure relief repeated on a continuous cycle, ideal for use when managing client "step down"
Other desirable features include innovative cover fixation straps specifically designed to avoid the problem of cover damage when incorrectly fixed to profiling bed frames.
Integrity® offers exceptional value for money and is easy to maintain with a full range of spare parts available.
Download Sumed Integrity Literature
Integrity® Customer Feedback
Nurse and Patient Comments
"The pump was very quiet"
"Preferred to the old mattress"
"It's a big improvement…
"No noise through the night…more comfortable"
"This is an excellent mattress
"The patient moves better"
If you would like to evaluate Integrity® for yourself please get in touch.