Ciltech® Scar Treatment
The silicone solution to scarring. Improve appearance of Keloid and Hypertrophic Scars with this effective Scar Treatment Options
Designed with discretion in mind, the sheets are thin and easy to wear under clothing whilst the gels require small amounts for effective applicaion
Keloid and Hypertrophic Scar Treatment
Since the 1980s, hypertrophic and keloid scars have been successfully diminished by either silicone sheet or silicone gel treatment.
Many papers (referenced below) demonstrate the effectiveness of silicone treatment, yet the exact mechanism that delivers the benefits has yet to be determined.
It is believed that silicone treatment delivers partial occlusion and rehydration of the skin, leading toreduction of scar size and prominence.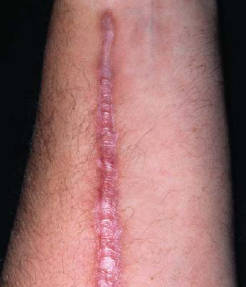 The picture on the right shows a keloid scar
Relevant References to scar treatment

BMJ 2004;328:1329-1330 (5 June), doi:10.1136/bmj.328.7452.1329
Mercer N.S.G. SILICONE GEL IN THE TREATMENT OF KELOID SCARS British Journ. of Plastic Surgery (United Kingdom), 1989, 42/1 (83, 87)
Hirshowitz, B. et al SILICONE OCCLUSIVE SHEETING (S0S) IN THE MANAGEMENT OF HYPERTROPHIC SCARRING, INCLUDING THE POSSIBLE MODE OF ACTION OF SILICONE (1993) Europ. Journ. of Plastic Sugery, 16:5-9
Kirn T.F. SILICONE GEL APPEARS INEXPLICABLY TO FLATTEN & LIGHTEN HYPERTROPHIC SCARS FROM BURNS JAMA (United States) May 12, 1989, 261 (18) p2600
Sproat, Janet E. et al, HYPERTROPHIC STERNAL SCARS: SILICONE GEL SHEET VERSUS KENALOG INJECTION TREATMENT (1991) Plastic and Reconstructive Surg., Vol. 90, No. 6