Ableworld launched their new Ableworld Specialist Assessment Centre at their Shrewsbury Store on the 11th July 2012. The Centre was officially opened by Jean Hutfield who is chair of the National Association of Equipment Providers (NAEP).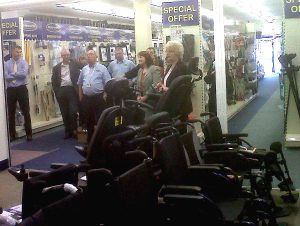 The day was attended by healthcare professionals from the NHS, nursing homes, care homes, charities and other organisations
The Specialist Assessment Centre is a new and exciting venture within Ableworld including a private assessment suite which is also available for use by Occupational Therapists for assessments and training.
Ableworld have two specialist managers and seating consultants – Mark Astley who is based at the Shrewsbury centre and Louise Mason who is based at Ableworld Nantwich.
Ableworld are the UK's leading provider of specialist mobility and healthcare equipment supplying to healthcare professionals and service providers.
They are also approved as a Community Equipment Service dispenser (CED) for the NHS and distribute a range of pressure relieving brands from Sumed including   Flowform®, Tempur Med® and Viscotech®.
You can find the centres for Shrewsbury and Nantwich at the following address:

Ableworld
Heathgates Bank
Ditherington
Shrewsbury
SY1 4BB
Ableworld
39 Beam Street
Nantwich
CW5 5NF
For further information please find your local store at www.ableworld.co.uk/store-locations