A successful three days was recently spent by the Sumed Sales Team at the 'Naidex' exhibition which ran from April 20th – 22nd. The annual event is held at the NEC, Birmingham and witnessed Sumed showcasing its full range of products.
With a constant stream of visitors to the stand, tremendous interest was shown in the company's ' Continuity of Care' product ranges including Tempur and Sumed also proved to be a major draw .
Visitors to the stand were also extremely impressed with the live demonstrations of the X-sensor™ Pressure Mapping System which showed clinicians the potential benefits the new V6 software offered as well as clearly demonstrating how simple the X-sensor system is to operate.
Sumed's Diane Hargrove said ' We had an amazingly busy three days with a great deal of interest in all our products. It was good to catch up with many familiar faces as well as meeting and introducing our range to a lot of new ones!'
On a lighter note, a FREE prize draw to win a fabulous Hamper was also held, with the winning recipients walking away with lots of luxurious goodies.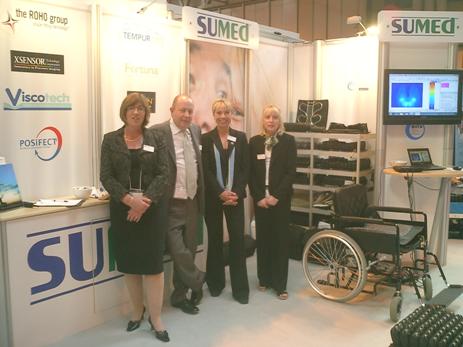 In the photo from l to r……Sue Bradley, Philip Charlton-Smith, Diane Hargrove and Sarah Lahert
If you didn't get the opportunity to visit Sumed at the exhibition and would like more information on our range of products, please get in touch.