In line with Sumed's policy of supporting the local community, the company recently presented a junior football team with a cheque to help provide them with their supply of footballs.
The recipient club, Gamesley Villa is actively appealing to locals to help them find new premises as with over 120 budding stars on their books they have outgrown their current location at Gamesley Primary School.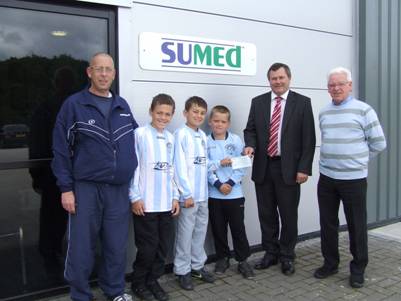 Executive Chairman of Sumed, Graham Collyer said 'We are very keen to support local initiatives and we looked at Gamesley Villa and the youngsters and we wanted to help them.  The club is well run and we aim to support the community the best we can'.
Secretary of Gamesley Villa, Pete Aldred, responded 'This money is a great boost for us.  We are looking for a new place to play.  Gamesley School has been great to us and we owe a lot of thanks to them, but we need somewhere else now'.