The Clear Choice
With 5 levels of pressure care
At Sumed®, we understand the importance of clear product labelling, both in terms of safety, i.e. to ensure that the right product is being used, and for convenience, i.e. to easily identify stock. That is why we've implemented a simple colour sytem for the labelling of our Integrity® range of static cushions.
To make risk level identification easier and quicker to determine, each level has been allocated a colour and this is indicated on the cushion by a label clearly displayed in that colour. In addition, the label also denotes the risk level with a single letter: E = Entry Level, L = Low Risk, M = Medium Risk, H = High Risk and V = Very High Risk. The maximum user weight for the cushion is also shown.
The label is positioned on the front right of the cushion and on all packaging, which is the optimum place for it to be seen when stocked, i.e. stacked on shelves, or transported. When a cushion is in use, the label, though covered by the user's left leg, can be easily referenced should the cushion type need to be identified.
This simple colour system combined with proper labelling to clearly establish a difference in risk level not only makes storage, stock-taking, ordering and delivery more efficient, but it also greatly reduces the chances of a cushion being used at the wrong risk level and/or weight limit.
Pressure care rating at 5 levels
Easy to differentiate between risk levels at a glance
Maximum user weight clearly displayed on the label
Cushion label is easily seen when stocked (i.e. when stacked)
Cushion label is hidden, yet easily • referenced, when in use
ENTRY LEVEL
– For Comfort Only
LOW
– Low Risk of Pressure Damage
MEDIUM
– Medium Risk of Pressure Damage
HIGH
– High Risk of Pressure Damage
VERY HIGH
– Very High Risk of Pressure Damage
3 Cover Options
To suit every need
Sumed has traditionally offered cushions only in a wipe-down option, but research has guided us into introducing two additional cover options: towelling and spacer fabric.
Wipeable
The wipeable cover is a four way stretch weft knitted nylon fabric coated with breathable polyurethane. This fabric can be washed at high temperatures and is ideal when there is a likelihood of fluid ingress into the insert. It has flame retardant properties.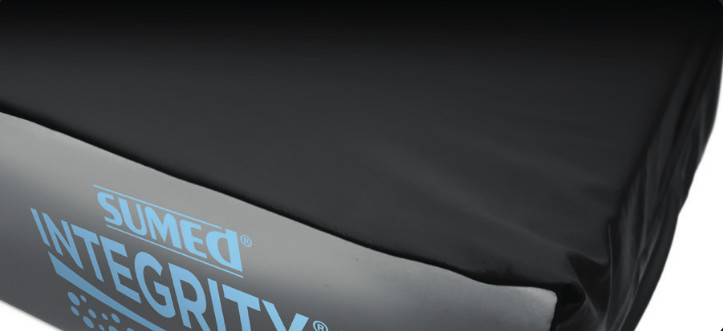 Towelling
The towelling fabric option is a four way stretch knitted structure with inherent flame retardant properties but being constructed from a blend of modacrylic, cotton and carbon. The blend of cotton and acrylic give a very soft and absorbent feel and the cover is very lightweight.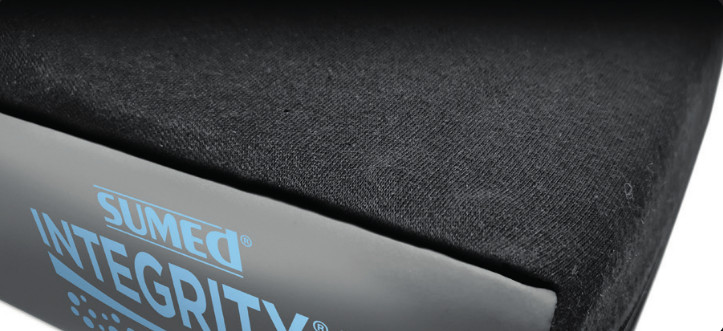 Spacer Fabric
The spacer fabric is manufactured from 100% polyester and has a combination of monofilaments to provide cushioning and textured multifilaments to give a soft comfortable feel. The construction is flame retardant and provides a layer of air which allows heat and moisture vapour to be dissipated thus providing a very comfortable surface.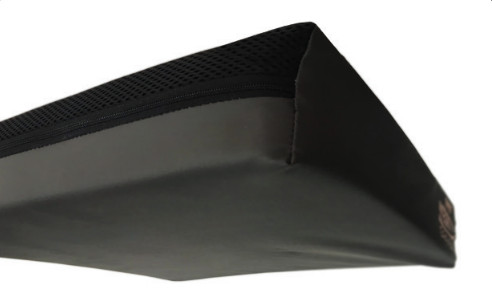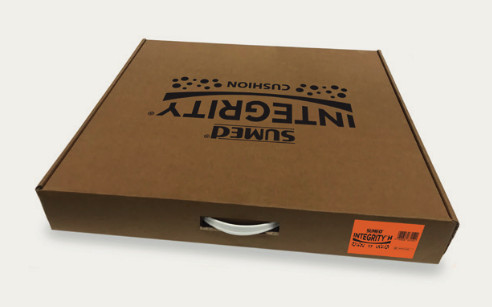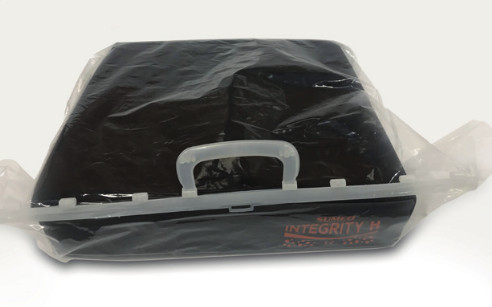 Cushion inserts are engineered to meet the risk/weight requirements
Warranty 3 years (against manufacturing defects)
Prescription forms are available to make placing an order even easier
We asked you what you needed to switch to INTEGRITY® as your first choice in cushions. You said you wanted:
A full range, covering different risk levels and weight limits
Clearly labelled
Non-slip base
A zip on two sides
Different cover options – black is the best colour
Special sizes
Easy to order
Quick delivery
Available in a box with a handle or a polythene bag with a handle
Affordable
We listened, and with our new Integrity Static Cushion Range we ticked all the boxes.