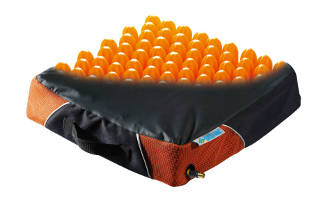 Following the PMG 2017 Conference, we've had a very positive response from the NEW POLYAIR Cushions, which were launched on our stand at the exhibition. (Click here for more information)
The air-cell cushion, which drew eyes with its bright-orange insert, helped to keep us all busy on the stand, and our area managers are all booking appointments to show off the various options. Contact the office, or your area manager directly, to arrange your appointment soon.
In addition to the new cushions, our wonderful wheelchair ranges also drew a crowd. The Netti wheelchairs were well reveived, and the Dynamic System in particular piqued many attendees' interest.