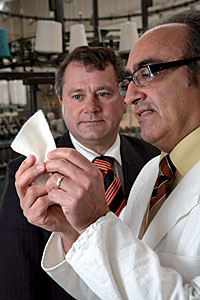 Scientists at the University of Bolton are using seaweed and crab shell extracts to create an innovative medical textile with unique properties to aid and accelerate healing.
This new material, called Chitocel, is now set to be developed as a revolutionary wound dressing. Infused with natural healing and antibacterial properties, this dressing will be able to absorb moisture, help stop bleeding and be hypoallergenic. It will also be better for the environment, its natural products ingredients make it completely biodegradable.
International patents have been filed and the material's commercial future will be developed with North West medical dressings company Sumed (International) UK Ltd. The work was made possible as a result of support Sumed received from SEEDA (the South East of England Development Agency).
Leading the four-year research project at the University of Bolton is Dr Mohsen Miraftab who has worked in the field of wound dressing development within the university's Centre for Materials Research and Innovation (CMRI) for the past eight years.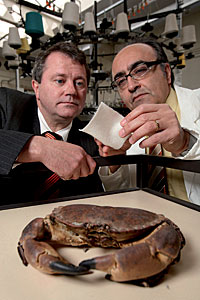 Pictured with Dr Miraftab is Graham Collyer, the Executive Chairman of Sumed (International) UK Ltd, in the CMRI textiles labs at the University
Said Dr Miraftab:
'We began by looking at alginate, extracted from a type of seaweed which has excellent liquid absorption properties. This is very important in wound dressings as the body produces its own natural defence to wounds, for example plasma, which needs to be absorbed and held away from the skin.'
'We were also looking for healing qualities and it is Chitosan, extracted from crab shell, which provides all the healing and antibacterial merits of this new material. In stories of ancient China, in battles, there are tales of crabs being smashed open and thrust into wounds. There is logic in this; Chitosan is antimicrobial and accelerates cell activity. In effect it heals and kills bacteria but, of course, it can't absorb water – being the crab's shell it is actually designed to do the opposite.'
Dr Miraftab's team have found a way to fuse together the molecules of alginate and Chitosan, creating a new molecule. Their patented technique uses hydrolysis and wet extrusion processes to create a new fibre which is infused with all the natural properties of its raw ingredients and yet strong enough to be made into a dressing.
Said Dr Miraftab:
'We are not the first team to look at alginate and Chitosan, but we are the first to successfully create a combined fibre strong enough to be made into a wound dressing.'
Now, working together with Sumed (International) UK Ltd, the team has developed the fibre from the initial university prototype to create a 10cm-square wound dressing.
Said Graham Collyer, the Executive Chairman of Sumed (International) UK Ltd:
'There is still more testing to do on Chitocel but all the indicators are that we do have something new.
'Pre-clinical safety trials are currently being carried out and further funding for commercialisation is being sought.'